Breaking News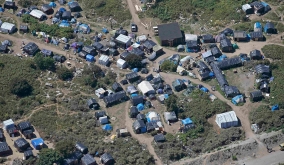 21 January 2016 | 16:49
In case of any doubt, the rights of unaccompanied child refugees are clearly defined in the European Union regulations that cover how EU member states should treat asylum seekers.
This obligation has been widely ignored during the current and huge refugee crisis.
Some EU states, where refugees have first arrived, have not wanted to help, or felt they couldn't help.
No wonder so many wandering, stateless people have had to go from one EU state to another, until they could find one that wanted them and could help them.
"It is time we prepared a more fundamental change in the way we deal with asylum applications – and notably the Dublin system that requires that asylum applications be dealt with by the first (EU) country of entry," he said.
After all, the Dublin regulation lets Britain off the hook in having to to take responsibility for asylum seekers. Britain is rarely if ever going to be the first EU country where asylum seekers arrive.
Under the Dublin Regulation, Britain can deport an asylum seeker back to the first EU country they entered.
Foreign Secretary Philip Hammond said last night that any changes to the regulations should "protect Britain's interests".
The Tribunal decided that the four refugees should be allowed to leave the appalling conditions in Calais, where they have been living since October, and immediately come to Britain to be with their relatives here whilst their asylum application is processed.
The ruling clearly demonstrated that the Dublin Agreement isn't working.
• Under the Dublin Agreement "the best interests of the child should be a primary consideration of Member States" (clause 13).
• Under the Dublin Agreement, "respect for family life should be a primary consideration" (clause 14).
• Under the Dublin Agreement members of one family should not be separated (clause 15).
• Under the Dublin Regulation, "When the applicant is an unaccompanied minor, the presence of a family member or relative on the territory of another Member State who can take care of him or her should also become a binding responsibility criterion" (Clause 16)
So that those poor youngsters, and others like them, will have to continue their cold, homeless, unloved existence in Calais, far away from home, and yet within reach of relatives who could care for them in Britain?
Shame on Britain. Shame on France.